Intro
The reign of Philippe Auguste and his victorious struggle against the powerful Plantagenets, claimed by the prestigious victory of Bouvines, made it possible to considerably consolidate the power of the Capétiens. France now sees a succession of great kings on its throne. The reign of Louis IX who became Saint Louis is one of the most significant. It is marked mainly by several crusades:two crusades against the Muslims (seventh and eighth) and a bloody crusade against the Albigensians started by his predecessors.
Reigns
The reign of Louis VIII the Lion
Louis VIII is the son of Philippe Auguste and Isabelle de Hainaut. He distinguished himself mainly during the reign of his father, notably by winning the victory of La Roche-aux-Moines against Jean sans Terre. He even nearly obtained the crown of England which the rebellious English barons offered him. Philip II, sure of his power, had not deemed it necessary to consecrate his son during his lifetime, as the previous Capetians had done. History proved that he was right:on his death in 1223, Louis VIII ascended the throne. The new king already has a lot of experience for having reigned alongside his father for a long time. Louis VIII continued the fight against the Plantagenets, capturing Poitou, Saintonge, Angoumois, Périgord and part of Gascony in quick succession. These lightning conquests earned him the nickname "The Lion". In 1226, Louis led a crusade against the Albigensians where a mysterious heresy took root. He lays siege to Avignon, but suddenly dies of dysentery (one speaks of deliberate contamination of water sources). This short three-year reign came to an abrupt end, yet it promised to be promising and radiant.
Louis VIII receiving the submission of Avignon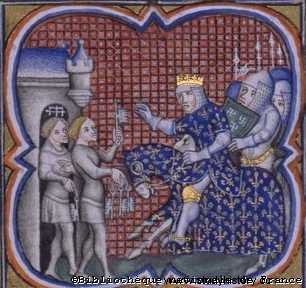 Read more: http://www.historyback.com/en/world/europe/1001018676.html